Slide 1
IT SUPPORT COMPANY LONDON
Small Business IT Support Services. Monthly support packages and ad-hoc technical assistance for Home and Business.
Fair, Uncomplicated Pricing
IT Support in London and beyond. IT packages that aim to improve business efficiency, security, and productivity at a fair price.


Our Managed IT Support Service ensures you can get on with your day
We provide you and your business, with a fully managed, outsourced, IT support service. We'll look after your IT systems from the word go, providing daily support and IT management for your team. Technology is great when it works, we're here to make sure it does, minimising downtime so that you can concentrate on what you do best.
Whether you're looking to outsource your entire IT function or solve a single IT issue right now, we're here to help.
A

SINGLE POINT OF CONTACT


for all your IT Services
Technical Support, Internet Connectivity, Business Telephone Systems, Website Hosting, Website Design, SEO, Data Backup, and Managed 3rd Party Subscriptions including Office 365.
IT SUPPORT
REVIEWS
SysFix provide a wide range of IT Support services in London.
In fact, we're one of the most popular IT support companies in London. SysFix has received many 5-star ratings on both Google and Trustpilot.
SysFix IT Support are a Microsoft Certified Partner and with a high client retention rate, we're obviously making our clients happy.
Our clients love what we do and they're happy to shout it from the rooftops.

---
I recently had the pleasure of experiencing an outstanding IT support service, and I couldn't be happier with the results. The team provided me with exceptional remote IT support, which not only updated my computer but also left me with a newfound sense of confidence in their expertise. From the moment I reached out for assistance, the communication was seamless and efficient. The support team promptly responded to my inquiries, and they were quick to set up a remote session to diagnose and address the issues plaguing my computer. This proactive approach immediately put me at ease, as I knew I was in capable hands. One of the standout aspects of this service was their attention to detail. The IT professionals meticulously analyzed my computer's configuration and identified areas that required updates and optimizations. They didn't just apply generic fixes; instead, they tailored their approach to my specific needs, ensuring that my computer would run smoothly and efficiently. The remote IT support team's technical expertise was nothing short of impressive. They navigated through various software updates, driver installations, and security enhancements with ease. Throughout the process, they explained every step in a clear and understandable manner, ensuring that I was informed and involved in the decision-making process. What truly sets this service apart is their commitment to customer satisfaction. They went above and beyond to ensure that my computer was not only updated but also optimized for peak performance. They even provided valuable tips and recommendations for maintaining my system's health in the long term. The convenience of remote IT support cannot be overstated. It saved me time and effort, as I didn't have to worry about bringing my computer to a physical location for servicing. The entire process was smooth, efficient, and hassle-free. In conclusion, I highly recommend this remote IT support service for anyone in need of computer updates and maintenance. Their exceptional technical expertise, attention to detail, and commitment to customer satisfaction set them apart in the IT support industry. Thanks to their outstanding service, my computer is now running better than ever, and I feel confident knowing that I have a reliable partner for all my future IT needs.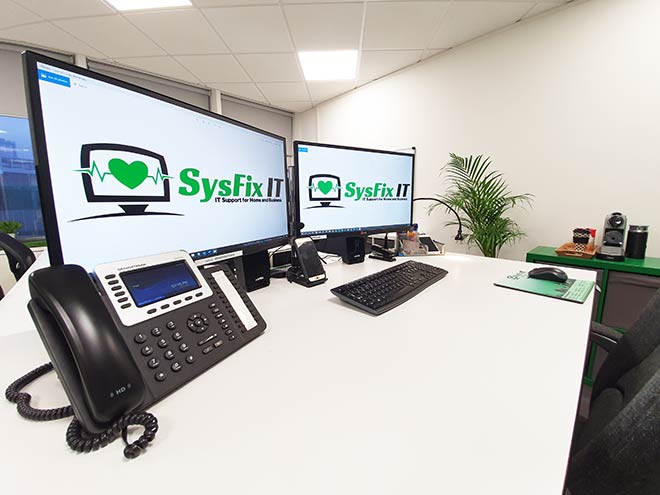 Businesses outsource the management of their IT systems to us because we're great at what we do


SysFix IT provides a wide range of managed IT services for businesses located in Central London, Croydon, and the South East. Many of our clients have moved to us having had a bad experience with other IT companies and because we're extremely competitive.

Unlike other IT solution providers, we're mature enough to have a wealth of knowledge and experience yet small enough to still give each of our customers that personal touch. Feel free to book an appointment to discuss your business IT.
IT SUPPORT in LONDON -
Business Sectors
Our in-depth IT knowledge has helped hundreds of small businesses grow, through innovation and new technologies. We've worked with Estate Agents, Charities, PR and Design Agencies as well as other Professional Services. Our clients appreciate our personal touch and attention to detail. Our outsourced IT Services deliver a fast and friendly service, ensuring you can get back to business in the shortest time possible.

Frequently Asked Questions


We provide IT services worldwide via our
Remote IT support
service. If you're looking for an engineer to visit you in your home or business, we provide these services within the M25. Businesses that require IT Support in Kent, Surrey, Sussex, and Essex are also covered.
We're always transparent in regard to our pricing structure. Most businesses hide their prices in fear of their competition. We offer a fair price for the quality and skill we provide and are happy to disclose.

Businesses on a monthly IT package receive unlimited online PC support during office hours. Call-outs are charged at £142.50 ex VAT for the first hour on-site and then £85 /ph in half-hour increments.
IT Support packages start from £250 per month.
---
Businesses not on contract with us are charged £85 /hr ex VAT for remote IT assistance during office hours. Call-outs are charged at £142.50 ex VAT for the first hour on-site and then £95 /ph in half-hour increments.
---
Residential Rates are charged at £135 for the first 1.5 hours on-site and then £85 /ph in half-hour increments. Remote support is just £85 /hr. There is no VAT to pay as we pay this for you to keep your costs low.
---
* When travel time exceeds 1 hour, a £40 call-out fee may apply. Prices quoted relate to office hours only. Evenings and weekend prices differ.
SysFix IT Support Limited has been providing business IT support in London since it was established in 2003. Throughout the years, we're worked with thousands of companies, helping them save money and improve productivity.
We provide a wide range of outsourced, business IT support services. You can find our full-service listing by accessing the menu at the top of the page. Generally speaking, we can assist you with anything from setting up a new office such as providing desks, network cabling, servers, broadband, a website and telephones through to day to day technical support issues. All our services are available for residential customers too.
The Latest From Our IT Support Blog
From helpful computer tips to the latest IT support news, we bring you information to enhance your business and home computer systems.