Slide 1
SEO CONSULTANT LONDON
Improve your website ranking and online presence with our affordable SEO consultancy services.
Search Engine Optimisation drives traffic and increases your Google Ranking.
There are trillions of business websites hosted around the globe, all competing for your potential customers, yet there are only a handful of positions available on the first page of Google.
95% of website traffic comes from a page 1 listing. 67% of customer clicks are from page 1, positions 1 to 5 and most people tend not to venture any further than this. That leaves just 5% of web traffic for all other positions.
If you sell a product or service, the importance of a page 1 ranking is clear. Small business SEO should, therefore, form part of your online marketing strategy. Remember though, no agency can guarantee you page 1 ranking but can provide measurable gains.
Large uncompressed images, un-optimised page titles, and keywords are just a few of the many factors that influence your Google ranking. By working on what we know works, we can improve your online presence, increase traffic, and keep your visitors on your website longer.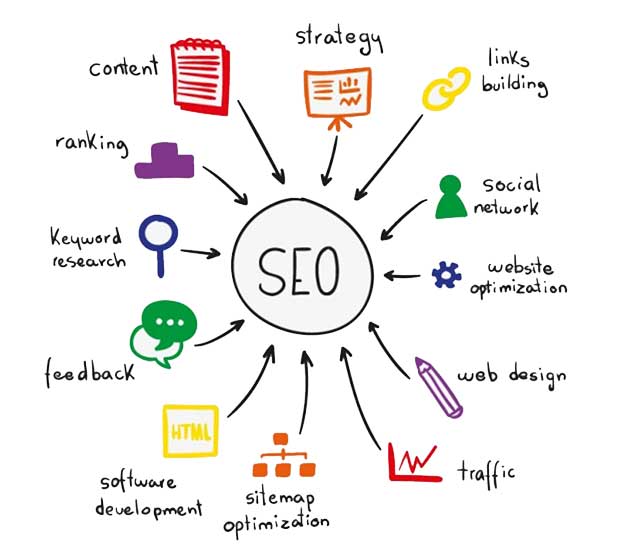 SIMPLIFY YOUR IT
SINGLE POINT OF CONTACT
No jumping through hoops, long call queues or generic responses. All your IT Services in one place, managed by your friendly IT team.
ONE MONTHLY INVOICE
IT Support, Website Hosting, Data Backup and everything else in between, paid monthly by Direct Debit.
DBS CLEARED
Each member of our team is DBS Security Checked, to protect vulnerable adults and children from those with a criminal history.
SEO is a long term strategy for acquiring more business.

Improvements don't happen overnight, but taking no action at all to improve your online presence yields no gains. Unlike other forms of advertising, SEO is measurable.
On-Page Website Optimisation
Off-Page Website Optimisation
Website Image Optimisation
Website Speed Optimisation
Broken Links Analysis
Link Building
PPC Management
Keyword Research
Competitor Analysis
Social Media Outreach
Local Listing Management
Copywriting
We're an affordable SEO agency
We're 100% transparent about our pricing and we don't have any specific SEO pricing plans. Each client is at a different point in their SEO journey, as such, we charge just £80 per hour and £90 for a comprehensive monthly report.
This allows you to set your own monthly budget. Our team will work hard to create additional content, repair website errors, optimise your images and everything else that is necessary to improve your Google ranking. We recommend a minimum spend of at least 5 hours per month in order to see positive change. The more hours you commit, the faster you will see improvements.
Other costs will include a budget for pay per click advertising (if required), fees associated with publishing guest posts on other peoples websites and any incurred expenses such as additional software plugins for your website.
Contact one of our London SEO Consultants today to discuss an affordable SEO package that fits your budget.