Slide 1
IT SUPPORT BRIGHTON
Monthly IT support packages and one-time technical assistance for businesses in Brighton, Hove and East Sussex.
IT Support Services in Brighton & Hove
SysFix IT Support provides a wide range of IT Services to businesses in Brighton and Hove. We offer you and your business a fully managed, outsourced, IT support service.
We'll look after your IT systems from the word go, providing daily support and IT management for your team. Technology is great when it works, we're here to ensure it does, minimising downtime so that you can concentrate on what you do best.
We cover all areas of Brighton and Hove through our IT Support Contract which allows you to outsource your IT function. We also offer ad-hoc support for one-time issues via our Remote IT Support Service.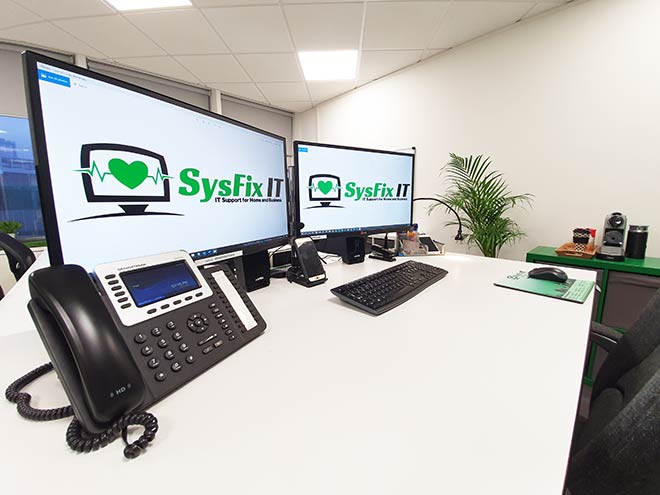 IT SUPPORT
REVIEWS
SysFix provide a wide range of IT Support services in Brighton
In fact, we're one of the most popular IT support companies in Brighton. SysFix has received many 5-star ratings on both Google and Trustpilot.
SysFix IT Support are a Microsoft Certified Partner and with a high client retention rate, we're obviously making our clients happy.
Our clients love what we do and they're happy to shout it from the rooftops.

---
I recently had the pleasure of experiencing an outstanding IT support service, and I couldn't be happier with the results. The team provided me with exceptional remote IT support, which not only updated my computer but also left me with a newfound sense of confidence in their expertise. From the moment I reached out for assistance, the communication was seamless and efficient. The support team promptly responded to my inquiries, and they were quick to set up a remote session to diagnose and address the issues plaguing my computer. This proactive approach immediately put me at ease, as I knew I was in capable hands. One of the standout aspects of this service was their attention to detail. The IT professionals meticulously analyzed my computer's configuration and identified areas that required updates and optimizations. They didn't just apply generic fixes; instead, they tailored their approach to my specific needs, ensuring that my computer would run smoothly and efficiently. The remote IT support team's technical expertise was nothing short of impressive. They navigated through various software updates, driver installations, and security enhancements with ease. Throughout the process, they explained every step in a clear and understandable manner, ensuring that I was informed and involved in the decision-making process. What truly sets this service apart is their commitment to customer satisfaction. They went above and beyond to ensure that my computer was not only updated but also optimized for peak performance. They even provided valuable tips and recommendations for maintaining my system's health in the long term. The convenience of remote IT support cannot be overstated. It saved me time and effort, as I didn't have to worry about bringing my computer to a physical location for servicing. The entire process was smooth, efficient, and hassle-free. In conclusion, I highly recommend this remote IT support service for anyone in need of computer updates and maintenance. Their exceptional technical expertise, attention to detail, and commitment to customer satisfaction set them apart in the IT support industry. Thanks to their outstanding service, my computer is now running better than ever, and I feel confident knowing that I have a reliable partner for all my future IT needs.
What can our Brighton IT Support Company do for you?
Increase Productivity
We'll make sure your computers, servers and laptops all work as they should, minimising downtime, and resulting in a more productive team.
Reduce IT Spend
We'll help to reduce the cost of IT by sourcing the right equipment and providing the optimal level of technical support for your business.
Improve Security
We'll help you to block potential cyber-attacks and to become a cyber-essentials certified business with our fully managed IT services.
Remote Access
We'll make it easy for staff to collaborate and work securely, from anywhere in the world, with access to familiar apps and company data.
Book An Appointment
Please complete the required details, giving as much information as possible.
Business IT Support in Brighton is available Monday to Friday (9am to 5:30pm). Out-of-hours appointments available with a supplement, subject to engineer availability.
All our IT engineers are DBS security cleared.
IT SERVICE LEVEL

A Service Level Agreement is our promise to you that we will deal with your support requests within a given timeframe. Our SLA depends on the type of package you select and the priority or business impact these have on normal business operations.
IT PROCUREMENT


With our expert knowledge and approved suppliers, you can avoid costly mistakes by outsourcing your IT procurement to us. We source the most appropriate server, computer system and software solutions to meet your individual requirements.
IT CONSULTING


Whether you're looking to improve security, upgrade servers or consider a move to the cloud, our IT consultancy service provides you with the answers you need to make informed decisions for your business.
Brighton Blog Posts
SysFix is an IT Support Company in Brighton that wants to help the local community. As well as providing an excellent outsourced IT service to local businesses, we aim to give something back too. Here you'll find useful information on all things tech in the local area.