Slide 1
LAPTOP REPAIR LONDON
All laptop brands repaired including Dell, HP, Fujitsu, Acer, Asus, Samsung, Lenovo, Toshiba, and Sony.


Laptop Repair Services In London
● Laptop Repairs London ● IT Support London ●
● Computer Repair London ● Laptop Maintenance ● London Computer Repairs ●

Broken Screens
Sorry, but we do not offer LED or LCD laptop Screen replacements. Screens are often expensive and many laptops that we see are older than a few years meaning it's not an economical repair.


Power Pin Repair
Laptop Not Charging? You may need a Laptop power jack repair or power socket repair. We supply replacement laptop chargers if you suspect this could also be at fault.


We perform a pre-determined set of tasks on your laptop to improve overall performance and stability. Choose this service if your laptop is running slow.

Audio Jack Repair
Laptop headphone Jack repair. Sound not working? Broken Audio Socket?
Laptop Audio Jack Repair. Sometimes, it's simply not worth repairing.

Graphics Issue
If you see garbled images or green lines. you may have a graphics chip failure. It's generally not worth repairing. Data recovery and a new laptop is the most cost-effective solution.


Deleted a file by accident or migrating to a new machine. We can recover data from most computers and devices including iPods, iPhones, Hard Drives and Memory Cards.

RAM Upgrade
Upgrade your laptop computer for an increased performance boost. A RAM Upgrade allows more programs to operate at once without a performance drop.

Wi-Fi Problems
If you have problems with internet access, slow wifi or poor wifi range, we can help. We supply and configure a range of products that improve signal coverage and speed.

Laptop Battery
Is your battery not charging properly or not holding charge? If it's running out too fast or bulging, a replacement battery can be purchased and installed by us.
Is it worth Repairing a Laptop?

Some IT support companies will sell you a laptop, ultrabook or notebook repair service, even if it makes more economic sense to purchase a new laptop, we don't. SysFix provides you with an honest diagnosis and recommendation or a new laptop computer if required.
Other Notebook Repairs



Keyboard Replacements
Laptop Trackpad Replacement
Laptop Overheating
Replacement Hard Drives
Windows Re-installation
Virus Removal
We DO NOT Repair



Water Damaged Laptops
Cracked Casing or Hinges
Single Missing Keyboard Keys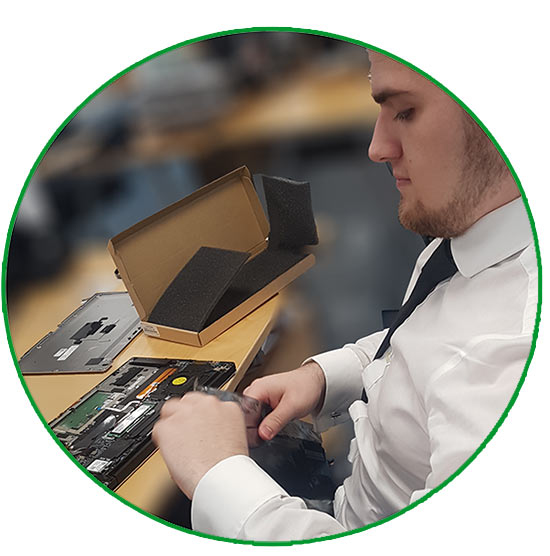 Request Assistance
For help with your laptop, notebook or ultrabook, please complete the required details, giving as much information as possible.