BROADBAND INSTALLATION LONDON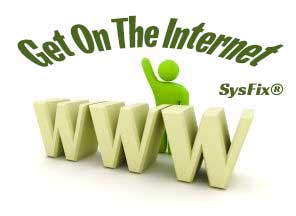 SysFix provide a range of tailored internet connectivity options that suit your requirements and budget. From the moment you place a broadband internet order with us, We'll ensure that you're taken care of from the offset. If you require a landline, we can even set that up too!
Of course, There are many internet providers available in the UK but we specifically provide small business broadband packages and home broadband packages that are tailored to your requirements.
There Are Different Types Of Broadband


BT Broadband
BT Broadband is of course provided by British Telecom. The downside to using BT as your service provider is their lack of investment in newer technologies compared to the private sector. A recent report released by OFCOM showed that broadband customers who opted for an LLU connection where the ISP put it's own equipment in BT exchanges are generally on much faster connections than those offered by BT.
Choose one of our broadband routers and we will pre-configure all the settings so that once your service becomes live, all you need to do is plug in your device. We'll also set up some security features so that you're protected. We want to ensure that your network is set up correctly and that it is secure. It's very common for people to simply plug equipment in without any advanced setup, leaving your computer exposed to the outside world. Our wireless router security check will ensure your router is protected.
Helping You Decide:
Most business customers are better to select the Business Pro option as you will have the opportunity to achieve higher upload speeds useful for sending emails, uploading to websites and site to site vpn. Business Lite is also a good product however upload speeds are lower than Pro versions. The speeds you can obtain are dependant on the distance from your premises to the nearest phone exchange. We offer a broadband installation service if you'd like us to set everything up for you.
Annex A and Annex M are products designed for those who wish to have a more stable connection. By trading off some download speed, you can increase your upload speeds. As well as speed, it also guarantees an upstream throughput of 85% of the upstream sync rate. The guaranteed hours of throughput are 8am to 5pm , Monday to Friday which will be of interest to business customers specifically. These packages are ideal for site-to-site VPNs and they replace the old SDSL connections which are now retired.
Home broadband customers can choose a the Home Value package or if they prefer, they can select a business package if they require faster speeds.