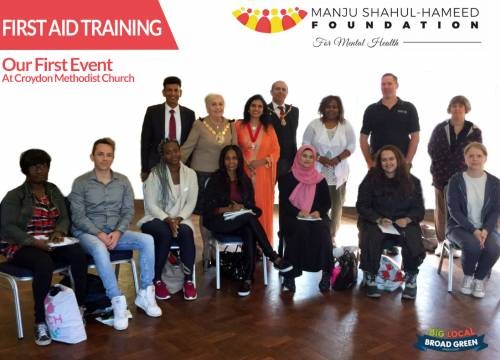 MH Foundation Free First Aid Training in Croydon
Manju from the Manju Shahul-Hameed Foundation invited us along (as well as other Croydon citizens) to their first Free First Aid Training event in Croydon on the 9th September 2017. Manju set up the foundation in order to bring together different communities within Croydon and the UK to assist those struggling with mental health issues. The event was an encouraging step to train and educate people by providing the skills needed in order to deliver first aid should the need ever arise. The course guided the participants the basic elements needed to not only protect themselves but the the local community, family and friends.
The course was lead by St John's Ambulance Croydon who I must say do an excellent job. The instructor on the day was exceptional, providing clear concise instructions with the opportunity to practice CPR on baby, toddler and adult dummies. The Mayor of Croydon, Toni Letts also attended to show her support.
As the director of SysFix IT Support, from a personal point of view, I have never given any medical assistance and having witnessed several medical incidents where I totally froze and had no idea what to do, I can honestly say that I am certainly more confident and would now be "willing to give it a go" should assistance ever be required. I believe this was the general message that was echoed throughout the event. Of course, no one expects me to be a medical expert after 3 hours of training but I would certainly recommend that everyone takes 3 hours out of their lives to learn the basics.

by Paul Stanbra