Free Software Every Computer Should Have
1. 7Zip (similar to WinZip but Free)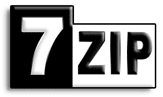 7 Zip is a file archiver and a free unzipping software suite. If you don't know what a file archiver is, think of it as putting lots of sheets of paper into a binder then standing on it to make it smaller in size so that it compacts. This is the job of archiving software, taking lots of files, squashing them down and then creating a single file with lots of squashed files inside. Archives have various file formats such as .zip, .tar, .tar.gz, .rar and a few others. File formats basically tell your computer what type of file it is and what program it needs to use in order to open the file. If you don't have archiving software on your computer, you won't be able to open some files you download off the internet. Files you download from the internet need to be as small as possible as the bottleneck of you receiving the file relates to the speed of your internet packages. The faster the connection, the faster you receive the file - but of course, not everyone has a fast connection. If software developers made us download large files, chances are that we would cancel the download and look elsewhere which is not good if they are trying to sell their download. Size Matters!
WinZip is the most well-known piece of software for dealing with archive files however it does come at a cost. There are many free alternatives but we have always found 7Zip to be the best free alternative. It's a small piece of software that does not slow down your computer in any way and is easy to install.
2. CCleaner (Software to clean your computer)
Over time, your computer collects lots of useless temporary files from various programs. Temporary files are usually the result of autosave features to protect against computer crashes or the downloading of images from websites so that the next time you visit the same page, it doesn't have to download the images again. As most news sites change on an hourly basis, however, your web browser has to download the newer images again anyway so over time, the temporary files related to your internet browsing can get out of control very quickly. The purpose of automated cleanup software is to provide a quick and easy way to remedy some of the most common causes of computer slowdowns. Removing temporary files also free's up valuable disk space for documents, movies and music for example.
Although this software can accomplish some computer cleanup tasks and help to keep things ticking over, there is nothing quite like having your own computer engineer perform a thorough cleanup operation and eradicate all those niggling error messages and speed issues. SysFix engineers perform what is called a PC Health Check to ensure your machine is running at it's best possible speed.
3. Adobe Acrobat Reader (A file viewer for PDF Files)
PDF files are files created primarily with the software package Adobe Acrobat. PDF's as they're known are "lossy" meaning that the quality is often reduced in order to shrink the file size. The term lossy simply means that images in the document, for example, have been manipulated in a way that uses fewer pixels, fewer colours, and some nifty blurring to make it look normal but the reduction results in a reduction in file size. PDF's can be created from many software packages, not just Adobe Acrobat. In Microsoft Word, for example, you can save a file as a PDF. The PDF file format also offers some file security. There are options to restrict who can print the file, who can open the file and who can edit the file. PDF's are a great way to share documents on the internet because of their smaller file size. Most computers nowadays already come with Adobe Acrobat reader installed but if yours doesn't have it or needs updating, download it from the link below.
4. K-Lite Codec Pack (Used to Play Many types of Video)
A codec is a type of computer language that performs several tasks but primarily 2. The first is to record video or movie footage and save the data in a way that compresses it into a smaller file by reducing the quality of colour, frames per second or video size/dimensions. The second is why it's important to download and install this software. A video comes in many formats as many different producers of video content all use different codecs. Microsoft Windows comes with "some" built-in codecs but not all. Attempting to play a video without the correct codec installed will result in a "codec not found" message. Whilst this software isn't necessarily going to change your life, having it installed will allow you to play most footage without encountering error messages. We all want to reduce the number of error messages our computers throw at us and a happy computer is a healthy computer. The K-Lite codec pack also comes with a few added extras. The most beneficial to you is Media Player Classic. Windows Media Player is as it says on the tin - A player of media or video files. It comes with Microsoft Windows for free anyway but it's quite bulky, slows your computer somewhat and isn't that user-friendly. Media Player Classic replaces the standard media player with a simpler interface that also puts less stress on your machine.
5. Gimp (A Free alternative to Photoshop for editing images)
Adobe Photoshop is the leader when it comes to image manipulation whether it's to simply crop your photos or to airbrush skin to give flawless tones. However, at a cost of over £650, for most of us, this is way too expensive. Gimp tries to offer many of the features provided in Photoshop for free. It's a great piece of software that will accomplish most tasks that everyday users will need to perform. It's also great for business users too if you're not working on anything too intensive. If you've never used image editing software before, it may take you a little while to learn the package as the icons in both Photoshop and Gimp aren't that intuitive if you've never used these types of packages before. For a zero cost solution though, this is really exceptional.
6. Google Chrome and Mozilla Firefox (Speed up your internet browsing)
There is a huge following for both Google Chrome and Mozilla Firefox so we have decided to categorise these two pieces of software as one simply because it comes down to personal taste. Internet Explorer that comes bundled with Microsoft Windows is an internet browser used for viewing pages on the internet. Both Chrome and Firefox have been tested and proved to provide faster page load times giving an enhanced user experience. They also have the added benefit of being highly customised by using "add-ons". Some examples include bolt-ons to remove all adverts from web pages, extensions that remember all your usernames and passwords for all your favorite websites and modules that store your various credit and debit card details in a secure wallet. Lots of possibilities and customisations to suit everyone.
Here at SysFix, we mainly use Google Chrome for web browsing and Firefox for testing websites we develop for our clients. We seldom use Internet Explorer nowadays. Microsoft was forced to offer it's end users a choice of browser as it was deemed that they were exploiting the market and monopolising their own software that comes bundled with Windows. You may at some point have seen an icon appear on your desktop called "browser choice". This was Microsoft's effort to give you the chance to choose the browser you wish to use. However - if you do choose to use Internet Explorer, by default you will be forced to use Bing as your default search engine rather than Google or Yahoo. You can, of course, change this but it's another example of Microsoft wanting to keep their customers close by force.
7. Picasa (Organise your Photos)
Picasa is free software aimed at those wanting to categorise and manage their photo library into a very easy to use interface. As I'm writing this article, It's apparent and quite remarkable that so much free software is available today but I digress. Picasa is bundled with some advanced features to make your life much easier when it comes to your photo library. The software is intelligent enough to recognise faces in your images and categorise them by name. This is extremely useful if you're looking for images of a family member. You can even create a collage from a selection of images, crop, rotate, change colour tones, remove red eye and lots more.
Integrated into Picasa are options to easily print your photos using your printer or a 3rd party photo printing service.
8. Mailstore (Free software to back up your Email)
Mailstore comes in two versions, Mailstore Home and Mailstore Server. It's a fantastic piece of software developed to ensure you have a full backup of all your emails. The home edition is free and allows you to back up E-Mail from programs like Microsoft Outlook, Outlook Express, Windows Live Mail and even web-based systems such as Hotmail and Gmail. The software takes a copy of each and every email and saves it in an extremely fast, searchable database. It has options that enable you to delete E-Mail older than a set amount of days but keeping a copy outside of your inbox for future retrieval. This is great for Outlook users who find that their copy of Microsoft Outlook is constantly lagging or crashing quite often.
Mailstore is also available to install on Microsoft Exchange Servers however this does require a license and yearly maintenance fees. SysFix IT Support is a UK provider of MailStore server so if this is of particular interest to you or your business, then please get in touch for a quotation.
The downside to the home version is that backing up your E-Mail is not automatic. In order to take a copy of your E-Mail, you have to periodically open the software and click the "Archive E-Mail" button. If however, you prefer a solution that automatically backs up your Outlook Email every 15 minutes, Every Hour or Every day, then take a look a data backup solution to back up your E-Mail.
9 and 10.
Whilst there is so much Free Software available on the internet today, not all of it is relevant to everyone. Therefore rather than attempting to provide a Top 10, at this point, all of the above is an essential offering that every computer should make use of. We would have included a Free antivirus product but there is a good reason we haven't and will be addressed in a separate article.
Did You Find This Article Useful?
It takes a lot of time to produce free computer advice articles such as this so if you found this useful, we'd really appreciate it if you shared this page with your friends.