---

How SysFix Backup PRO Works
SysFix Backup PRO is cross-platform, client / server backup software that backs up your critical files.

With the SysFix Backup PRO software installed, you can back up any computer to any number of backup servers at any of our locations including your own USB drives. This is an affordable option for your offsite, mission critical backup and requires zero setup on your behalf as we perform the installation and configuration via remote control.
Laptop Protection For Your Mobile Workforce
SysFix Backup PRO works over any network connection, including the Internet. As long as you can connect to our worldwide servers, your laptops are backed up regardless of location.
Full communication and data transfer encryption provides secure protection in the office as well as on the road and at home.
Coffee shops, airports and hotels - any place with an Internet connection is now a protected location for your workforce.
Bullet-Proof Backup, Guaranteed Restore
SysFix Backup PRO protects and restores your data with best-of-breed, enterprise ready backup technology.
Bullet-Proof Backup:
Enterprise grade encryption secures your data the moment it is read from disk
Data de-duplication and compression greatly reduces storage requirements
Byte pattern differentials reduce CPU, disk and network utilization
Guaranteed Restore:
Automatic integrity checks ensure backup data is always correct and ready when you need it
Archive self-healing corrects any data integrity issues automatically
Unlimited historical versioning restores any file from any point in time
Unlimited files and file sizes let you back up everything
Continuous, Real-Time Backup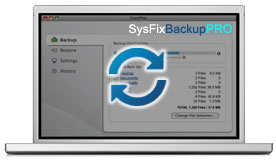 In addition to scheduled backup, SysFix Backup Pro™ provides continuous, real-time backup protection.
SysFix Backup PRO™ detects data changes then waits for the changes to stabilize. Once the changes stabilize, it only transmits newly created data. If data is merely re-organized, no sending of data is required!
This byte pattern differential approach conserves considerable bandwidth and reduces load on users' computers when compared to traditional backup differentials.
People Friendly, Enterprise Tough
SysFix Backup PRO is built to meet any of your home or business growth needs.
Built for Speed
We invested years in the core backup engine, tuning it to make it lightweight and blistering fast while performing intensive tasks like data de-duplication, byte pattern differential analysis, version reduction and encryption.
Built for Growth
Our backup plans can be tailored to your needs as your data requirements change.
Built for People
Most importantly, we focused on the user experience to deliver the easiest, pain-free backup software for you and your users.
Whether you are a single user at home or a small business with or even a FTSE 100 responsible for managing 50,000 computers, SysFix Backup PRO does the job.